French Salads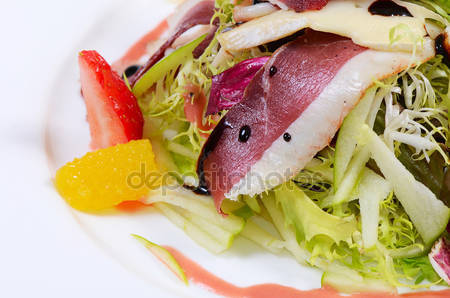 French salads are eaten all over France as a starter, a main meal and even as part of your main course.
Salad is a mixture of foods, usually including vegetables or fruits, occasionally with a dressing or sauce, occasionally nuts or croutons and sometimes with the addition of meat, fish, pasta or cheese. Salad is normally served as an starter before a larger meal.
The word "salad" comes from the French salade of the same meaning, which in turn is from the Latin salata, "salty", from sal, "salt". Fresh ingredients are the key. If you can grow your own it's definately worth the effort and you'll find you will choose your meals according to the seasons. 

There are many different types of salad, growing your own preferences is best. There is the popular round cabbage lettuce and the 'romaine', there is the bitter 'chicorée-frisée'. 'La frisée' is the curly leaved flattened salad we call endive, green leaves with a yellow centre. There is the less bitter 'scarole' or batavian endive. Also there is rocket 'la roquette' which is a little peppery and the little gem 'la sucrine' which go well together. To name but a few!!!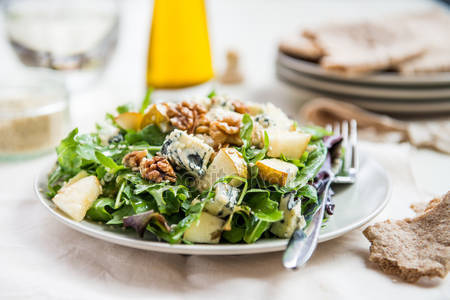 The oils used in dressing a salad can also vary, depending on your taste.

There is the bland 'tournesol' or sunflower oil, then the 'arachide' or groundnut oil, then the more popular olive oil.
Traditionally in the south-west of France walnut oil or 'l'huille de noix' was the locals favourite. It has a very strong flavour and is best to dilute with a blander oil, unless your taste buds can take it!!!
Very often, if you have a meal at a family run restaurant like a
'Ferme Auberge' you traditionally receive a fresh green salad with vinagrette dressing after your main course on it's own to cleanse your palette or with your cheese course.

Perigord Salad 'Salade Perigourdine' is a traditional french recipe. A regional favourite from Perigord.

Cheese and Tomato Salad 'Salade de Tomates et Fromage' is a traditional recipe know all over France.

Walnut Oil Salad 'La Salade à L'Huile de Noix' is traditional to the Périgord region, in the south-west of France.

Truffle Salad 'La Salade Truffé' is a very simple, yet wonderful accompaniment to any main course. The most saught after truffle is the Black truffle or Black Périgord Truffle....

Roquefort Salad is a traditional salad from the Perigord, as the main ingredients are produced locally. It is a regional favourite.

Foie Gras Salad by Petrossian is a simple dish, it includes walnuts and white truffle oil and comes from an upscale french restaurant right next to Central Park.