Foie Gras Salad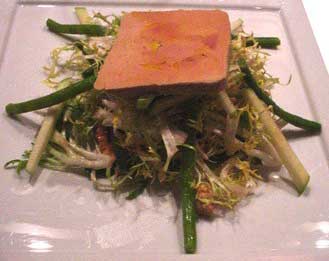 This simple dish, includes some famous french foods, like foie gras, walnuts, and white truffle oil this recipe comes from an upscale french restaurant right next to Central Park. It's in a beautiful, old-world style building and has great atmosphere and food.
Thank you Doug for sending it to me.


Ingredients
* 1 pound baby frisee
* 16 walnut halves
* 16 haricot Vests, blanched
* 1 Granny Smith Apple, peeled and cut into a small dice
* Foie Gras Terrine, 8 oz.
* 4 teaspoons of white truffle oil
* Salt and pepper to taste
For the Roasted Shallot Vinaigrette
* 1 cup olive oil
* 4 large shallots, peeled and sliced thinly
* 3 teaspoons of chopped thyme
* 3 teaspoons of chopped parsley
* ¼ cup of sherry vinegar
* Salt and pepper
Method
* In a large sauté pan, heat olive oil over medium heat until shimmering and add shallots.
* Sauté for two minutes, then lower the heat to low and add the vinegar, salt, pepper, and herbs.
* Cook for 10-15 minutes until the shallots are tender and remove from the heat and cool.
* When the shallots are cool, add them to a blender and blend for 30 seconds, add the olive oil in a steady thin stream to form an emulsion.
* Adjust seasonings with salt and pepper if needed.
Assembly
* In a large bowl, combine the frisee, walnuts, haricot verts, apple, and four ounces of the foie gras terrine cut into ¼ inch dice.
* Dress the salad with the roasted shallot vinaigrette and toss to combine.
* Divide onto 4 chilled plates and top each salad with a one ounce slice of the remaining foie gras terrine.
* Drizzle a teaspoon of truffle oil over each slice and serve chilled.
Submit Your Own French Recipe
Do you have a great Traditional French Recipe? Then why not share it with us and other visitors to the site! Use the form below to submit a recipe to Traditional French Food.