French Fish Recipes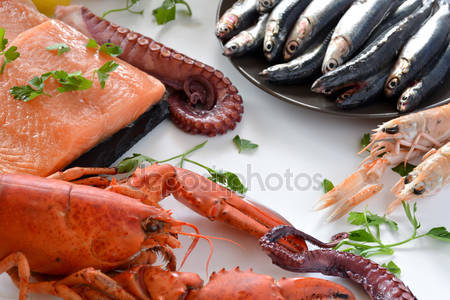 There is no shortage of french fish recipes in France. The French are not fussy when it comes to eating fresh fish and seafood dishes in general. They enjoy fish, and hopefully you will too, if you try some of the recipes.
When buying fresh fish try and remember to check that the flesh is firm and the eyes bright. Look inside the gills to check they are pink in colour and fresh fish normally smells of the sea.
When grilling fish, leave the skin on to protect the fish, remove the skin on poached fish before serving and never boil fish, cook gently!

The French are very passionate about their french fish recipes. Fish stews like 'Bouillabaisse' from Provence and 'La Chaudree' from Charente, are famous in their regions and known throughout France.

Remember they taste so much better when using fresh fish, so become friends with your fishmonger and he can also prepare and order in advance your fish.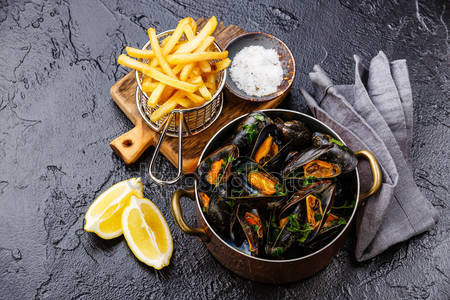 Traditional French Fish Recipes
Seared White Sturgeon with Caviar Beurre Blanc by Petrossian is a simple seafood recipe, truly a taste of luxury, using some of the oceans most famous foods. 

Bouillabaisse 'fish soup' is probably the most famous traditional recipe from Provence. Originating from Marseille.

Monkfish Mould 'Lotte a L'Imperatrice' is my favourite french fish recipe. This recipe is traditionally from the Poitou-Charentes coastal region of France.

Brittany Fish Stew 'Cotriade' is a traditional french recipe from Brittany. A regional favourite from the west coast of France.

Roast Pike 'Brochet au Four' is a traditional french recipe. From the Lorraine region of France.

Fish and Potato Bake 'Bouillinade' is a traditional recipe from Languedoc. This region borders Spain in the south of France.

Mussels 'Moules Mariniere' is a traditional recipe originally from Brittany. They are a great social food, to be eaten with lots of friends.

Mussels with Roquefort Sauce 'Moules au Roquefort' is a dish known all over France. Soft juicey mussels, roquefort cheese, fresh cream.

Lobster Au Gratin is a gourmet food, seafood recipe from Lobster Gram. A truly delicious alternative to fish.

For a change, why not try a recipe from a site I found recently.
www.find-a-seafood-recipe.com the 'seafood-lasagne' recipe,
I make a version similar and my boys love it. Remember, Seafood is quick to cook and easy to digest, is high in protein, vitamins, minerals and natural oils and is low in calories and cholesterol.