Seared White Sturgeon
with
Caviar Beurre Blanc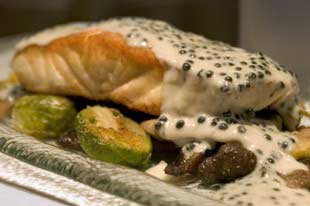 Seared White Sturgeon with Caviar Beurre Blanc
This simple seafood recipe is truly a taste of luxury, using some of the oceans most famous foods.
It comes from an upscale french restaurant right next to Central Park. It's in a beautiful, old-world style building and has great atmosphere and food.
Thank you Doug for sending it to me.
Ingredients

To make the sauce
* 2 shallots, peeled & sliced
* 2 cloves garlic
* 1 bay leaf
* 3 sprigs thyme
* 2 black peppercorns
* 1 cup white wine
* 1 cup fish fumet (stock)
* 1 cup cream
* 8 ounces butter, cut in cubes
* chilled Salt & pepper to taste
* Caviar, 20 grams
For The Mushrooms
* 1 oz. vegetable oil
* 1 pound Trumpet Royale Mushrooms, cleaned and quartered
* 1 shallot, minced
* 3 sprigs thyme
* 1 lb. fava beans, blanched
* 4 7 oz. filets White Sturgeon
* Chervil (optional)
* Salt & pepper to taste

Method
To make the Beurre Blanc:
* Combine first six ingredients in a saucepan and reduce the wine until nearly evaporated.
* Add the fish stock and reduce until nearly evaporated.
* Add the cream and reduce by half.
* Strain the mixture.
* Discard the solids and put the hot liquid into the blender and puree.
* Slowly add the cubes of butter to the working blender.
* Season and reserve in a warm place.
To make the mushrooms:
* Place a sauté pan over a high heat until very hot and then add oil.
* Place mushrooms in a single layer in the hot pan.
* Add a pinch of shallots, garlic and a spring of thyme.
* Sauté until slightly brown and then flip to other side and repeat process.
* Repeat this process with remaining mushrooms.
* Reserve in a warm place.
* Blanch the Fava beans in salted water.
To assemble:
* Preheat oven to 400 degrees.
* Put a sauté pan on high heat and add a little oil.
* Season the sturgeon and place in a very hot pan.
* Brown the presentation side first and place in preheated oven.
* Sauté the mushrooms and add the Fava beans. Season.
* Place the cooked sturgeon on top of the mushroom fricassee.
* Add the caviar to the sauce and combine.
* Pour the caviar beurre blanc over fish and garnish with chervil.

Submit Your Own French Recipe
Do you have a great Traditional French Recipe? Then why not share it with us and other visitors to the site! Use the form below to submit a recipe to Traditional French Food.