French Soups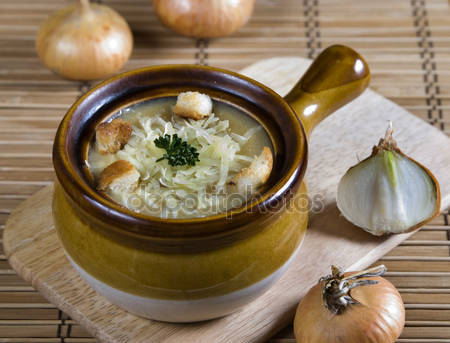 Fresh ingredients are the basics to really tasty French soups. As the climate and landscape changes throughout France, regional favourites depend on what is available around the seasons.
Soup is a liquid food that is made by combining ingredients, such as meat, vegetables or legumes in stock or hot water, until the flavor is extracted, forming a broth.
Traditionally, french soups are classified into two groups: clear soups and thick soups. The established French classifications of clear soups are bouillon and consommé. Thick soups are classified depending on the type of thickening agent used: purées are vegetable soups thickened with starch; bisques are made from puréed shellfish thickened with cream; cream soups are thickened with béchamel sauce; and veloutés are thickened with eggs, butter and cream. Other ingredients commonly used to thicken soups and broths include rice, flour, and grain.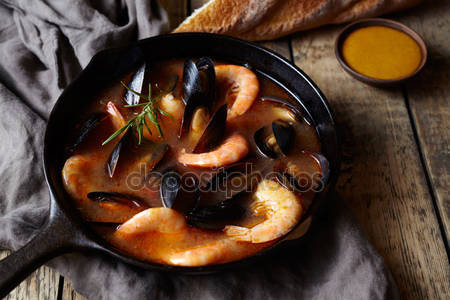 One of my favourite ways of thickening soups is using 'Cheveux d'Ange' it's very fine pieces if pasta. I can guarantee my boys will eat their soup with this in.
The word soup originates from "sop", a dish originally consisting of a soup or thick stew which was soaked up with pieces of bread. The modern meaning of sop has been limited to just the bread to be dipped.
The word restaurant was first used in France in the 16th century, to describe a highly concentrated, inexpensive soup, sold by street vendors called restaurer, that was advertised as an antidote to physical exhaustion. In 1765, a Parisian entrepreneur opened a shop specializing in restaurers. This prompted the use of the modern word restaurant to describe the shops.
There is nothing easier than to make a hearty soup, it can be made from all the leftovers you have in the fridge or can be a refined affaire.
French garlic soup 'Soupe a l'ail' is a traditional soup recipe from the french region of Languedoc

Pumpkin Soup 'Soupe au Potiron' is a traditional recipe from the french region Auvergne.

Green Bean Soup 'Soupe aux Haricots Verts' is a traditional recipe from Lorraine region of France.

Shrimp Bisque 'Bisque de Crevettes' is a traditional recipe from the Charente region in France.

Pistou Soup 'Soup au Pistou' is basically a seasonal vegetable soup with 'pistou sauce'. This soup orignates from Provançal

Chestnut Soup 'Soupe aux Chataignes' is still popular french soup from the Aquitaine area of France due to the abundance of sweet chestnuts which are still grown here.

Bouillabaisse 'fish soup' is probably the most famous traditional recipe from Provence. Originating from Marseille, the more people it is made for, the more different types of fish are in it.

Garbure is a thick meat, bean and vegetable soup. It is a Famous Traditional French Recipe from the South-West of France.