Pumpkin Soup
(Soupe au Potiron)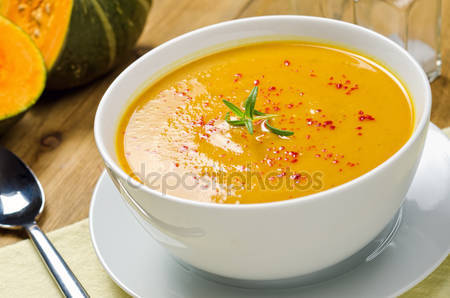 Pumpkin soup (soupe au potiron) is a very traditional wholesome french food, because we live in the country there is always an abundance of pumpkins around september, even if you have not grown any yourself you can guarentee being offered a few at this time of year from neighbours.
The time to plant them is in May to reap in your crop in september and there are a few recipes you can do with pumpkins to make a delicious meal. Like Fried Pumpkin Slices they make a nice alternative to regular chips.

soupe au potiron
serves:- 4, Preparation time:- 10 mins, cooking time:- 45 mins
Ingredients
* 1.5 kg (3lb) of pumpkin flesh, cut into chunks
* 5-6 medium sized potatoes, peeled and cubed
* salt and pepper
* 4 tablesspoons of double cream
* garlic croutons.
Method
* Bring pumpkin and potatoes to the boil and simmer for 30-40 mins or until cooked.
* Mash the mixture and add a little salt and pepper to taste.
* Stir in the double cream and serve with plenty of garlic croutons 
Submit Your Own French Recipe
Do you have a great Traditional French Recipe? Then why not share it with us and other visitors to the site! Use the form below to submit a recipe to Traditional French Food.