Blanquette de Veau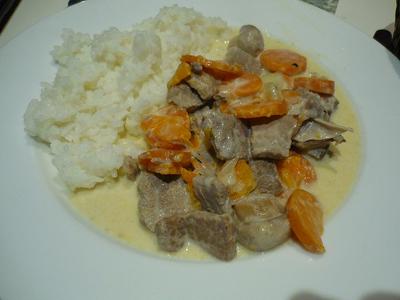 Blanquette de Veau (creamy veal stew)
Blanquette de Veau or veal stew is one of the most famous dishes of French cuisine. Normally prepared with veal but there are many variants with lamb, poultry or fish, Simple to prepare comfort food, it is one of the favorite dishes of the French.

If you eat in restaurants in France at lunch time, you will very often find Blanquette de Veau on the menu du jour (menu of the day). It is a very famous recipe all over france and I have eaten may different variations of this dish but I think this recipe is one of the best, Enjoy.

Preparation: 45 mn
Cooking time: 1 h 30 min
Total: 2 h 15 mn
Ingredients
- for 4 people:
800g boneless veal, neck or shoulder
3 carrots
1 leek
4 small yellow onions
1 bouquet garni
2 egg yolks
100ml of crème fraîche
60g butter
40g of flour
200g of mushrooms
1/2 lemon
Method
Prepare the vegetables, peel and cut carrots, leek and onions.


Cut the veal into large cubes, put it in a casserole, cover with cold water, then bring to a boil.


When the water boils, remove the foam, then add the cut vegetables and bouquet garni.


Season with salt and pepper and cook about 1h30 over medium heat.


At the end of cooking, put the meat aside and filter 1 to 1.5 litres of broth to keep for the sauce.


Wash and cut the mushrooms, then cook them in a sauté pan with 20g butter, 100ml water, 1/2 lemon juice and a pinch of salt.
For the sauce
Prepare a white roux with 40g of butter and 40g of flour (add flour to the melted butter and cook over medium heat)


Pour the broth in gradually and stir to make the roux. Remove from the heat once the sauce has thikened.


In a bowl, combine the 2 egg yolks and the cream, then stir the mixture from the bowl to the sauce.


Finally, add the pieces of meat and mushrooms to the sauce. Simmer for a few minutes and serve with rice.
Join in and write your own page! It's easy to do. How? Simply click here to return to Submit Your Own French Recipe.