Confit de Canard
( preserved duck)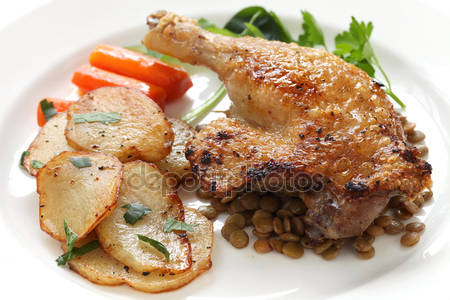 Confit de Canard comes from the Aquitaine region of France. Situated on the Atlantic coast, this is the south west of France. The capital is Bordeaux and there are 5 departments within Aquitaine.
Confits are basically a technique in preservation. 'Preserved duck' is a very traditional dish in this region.
You can preserve most meats in the same way, but duck cooked this way is by far the best. Normally eaten with Potate Sarladaise and haricot verts, (green beans).
Confit de Canard
serves:- 4-6, preparation time:- 20 mins, cooking time:- 10 mins
Ingredients
Usually bought in tins conataining 4-6 portions of preserved duck, the hardest part about preparing this dish is getting the duck out of the tin.

The easiest way we found is to place the tin in some hot water for about 15 minutes then open the tin, take out the duck portions, and free from as much duck fat as possible.
Home made confit de canard is 'slightly' more time consuming, what you'll need is 4-6 duck portions, rub salt into them and leave in a shallow covered dish for 5-6 hours. Put your oven on low, 150 C/gas mark 2. Wipe of the salt with kitchen paper and place all the peices in a flameproof dish quite tightly, slightly brown both sides of the duck peices very slowly, this can take 15-20 minutes. Now cover your duck with enough duck fat to cover completely, now pop it in your preheated oven for upto 2 hours. then leave it to cool. You can keep your duck preserved like that for a few days.
For full instructions on how to prepare confit de canard here...

Method
The idea is to warm the duck portions, not to cook again. The best way we found is to pan fry,
* heat a frying pan without any oil, as you already have duck fat around your pieces of duck
* Place the portions skin down and leave on a medium heat, do not move the pieces until they are a little crispy, then turn and do the other side
* 'voila' it's ready!! truly a quick and tasty dish
* serve with a salad or potate saladaise with 'haricots verts' french green beans
* remember to save the duck fat to use when roasting potatoes or frying chips, 'bon appertit'
Warning:- If you're watching your weight, not to be eaten too frequently as you can seriously pile on the pounds!!
Although, it is not necessarily the duck that has the fat, eaten with a salad and the calorie count is not bad.
Submit Your Own French Recipe
Do you have a great Traditional French Recipe? Then why not share it with us and other visitors to the site! Use the form below to submit a recipe to Traditional French Food.