Caviar and Steak Tartare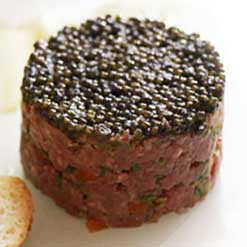 Caviar and Steak Tartare by Petrossian

This simple dish is something special indeed, it comes from an upscale french restaurant right next to Central Park. It's in a beautiful, old-world style building and has great atmosphere and food.
Thank you Doug for sending it to me.
Did You Know
Baeri Caviar is farmed in France, most notably Aquitaine, from Siberian Sturgeon.

Ingredients
24 ounces of beef tenderloin, cleaned and minced by hand
Tabasco Sauce to taste
Salt and Pepper to taste
4 Tablespoons of drained capers, chopped
4 tablespoons of Dijon mustard
6 ounces of minced shallots
6 ounces of minced chives
4 ounces of minced piquillo peppers
2 tablespoons of extra virgin olive oil
1 ounce of Armagnac
Caviar, 80 grams
To Serve

1 baguette cut ¼" thick and lightly toasted, approximately 24 pieces
8 ounces of salad greens


Method
In a large chilled bowl, add the first ten ingredients.


Mix with a spoon to combine and adjust the seasoning with salt and pepper if needed.


Pack 6 ounces of the tartare into a ring mold set on a chilled plate.


Push down with a spoon to keep the mixture compact.


Top with 20 grams of the caviar, smoothing out the top gently with a spoon and remove the mold.

Serve with 6 croutons and 2 ounces of greens on the side. 

Submit Your Own French Recipe
Do you have a great Traditional French Recipe? Then why not share it with us and other visitors to the site! Use the form below to submit a recipe to Traditional French Food.