Beef Bourguignon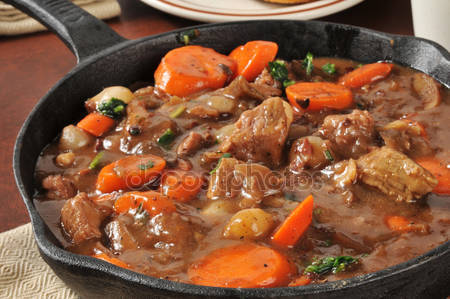 When I started to research recipies for beef Bourguignon, I realised that like most French foods there are hundreds of different variations of the recipe. Some say marinate the meat over night, others include juniper berries or even cognac.

Then a French friend gave me this simple recipe, which to me is probably more traditional, as it has simple inexpensive ingredients and is both cooked and eaten over several days.

Ingredients
* 800g of braising beef cut into chunks
* 2 onions cut into quarters
* 4 carrots, sliced roughly
* 50g of butter
* 3 tablespoons oil
* bouquet garni
* 1 bottle of red wine
* 250g of button mushrooms (added the next day)
Method

Heat butter and oil in a large heavy-bottomed pot
Sauté the onions and remove.
Brown the meat in batches. All pieces should be golden.
Remove all meat and de-glaze the pot with a little of the red wine.
Put onions and meat back into the pot.
Add the bouquet garni and sliced carrots.
Season with salt and pepper.
Cover with remaining red wine.


Gently Simmer for 4 hours.


The next day, Gently simmer for a further 2 hours adding a little water if needed.
15 minutes before serving, Season with salt and pepper, add the button mushrooms and stir.
Serve with potatoes, French bread or croutons, and of cause a bottle of good red wine.
---